Initial Maid Service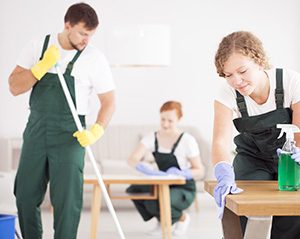 Many of our house cleaning services customers simply want their house looking new again. Our One-Time maid service caters to those of you who are looking for a deep house cleaning services to be provided all in one shot. Our experienced and professional home cleaners provide a thorough, detailed, comprehensive cleaning of your home. They clean things that you didn't even know had to be cleaned. If it's dirty, the professional home cleaners at Home Cleaners 4 You takes care of it. The One-Time visit pays specific attention to detail kind of cleaning to your entire house, including your light fixtures, baseboards, inside small appliances, walls and more.
The One-Time maid service is also highly recommended to be used as your initial house cleaning service if you're considering having maid services on a recurring basis. This ensures that our professional house cleaners can get right down to the nitty gritty on the first basis, so they can then maintain the same cleanliness moving forward. If you're interested in the One-Time maid service, or any other house cleaning service at Home Cleaners 4 You, please give us a call today for your free initial/one-time maid service estimate.
Initial/One-Time Maid Service
Wash window ledges
Make beds-change
Spot clean walls and fingerprints
Wash baseboards and chair rails
Vacuum upholstered furniture
Remove cobwebs
Plus all recurring cleaning tasks
Clean glass on entrance doors; clean sliding doors and tracks
Clean kitchen
Sinks/counters
Clean outside of appliances
Clean inside of small appliances
Wipe cabinet doors
Clean table & chairs
Wash kitchen floors
Clean light fixtures, ceiling fans, wall hangings, and blinds
Linens
Remove trash
Vacuum all carpet areas
Sanitize bathroom
Fixtures
Clean & sanitize sinks
Tubs & showers
Clean mirror & glass
Surfaces
Wash bathroom floor
Dust/mop hardwood
Floors
Dust furniture/shelves
Pictures